Michael Gove says it is his "fervent hope" that England's new lockdown will end on 2 December – but that ministers will be "guided by the facts".
"We do need to get the R rate below 1," the Cabinet Office minister told the BBC's Andrew Marr Show.
The strict measures are due to come into force from Thursday.
Pubs, restaurants, gyms, non-essential shops and places of worship will close, but schools, colleges and universities can stay open.
The prime minister is expected to deliver a statement in the Commons on Monday before a vote on the latest restrictions on Wednesday. Labour has said it will back the lockdown.
Boris Johnson said he expects the lockdown to last until 2 December, after which England's regional tiered system will be reintroduced.
But Mr Gove told the BBC decisions would "obviously be guided by the facts".
He said ministers believe "on the basis of the evidence that we have that we will be able to [lift restrictions]" by 2 December.
But he stressed that "we do need to get the R rate [the number of people that one infected person will infect] below 1".
Earlier, he told Sky News the lockdown could be extended beyond the December deadline.
abour leader Sir Keir Starmer told the BBC there would "be no effective exit on 2 December unless the government uses this time to fix test, trace and isolate".
He has called for the lockdown to stay in place until the R rate is below 1.
Also on the Andrew Marr Show, Sir Jeremy Farrar, chairman of the Wellcome Trust and Sage member, said the proposed end date of the four-week lockdown was "useful" but people should not be "fixed on it" as it is not clear what the situation will be like in the last week of November.
He added it would be "much better to extend lockdown for another couple of weeks prior to Christmas" so people could enjoy that time.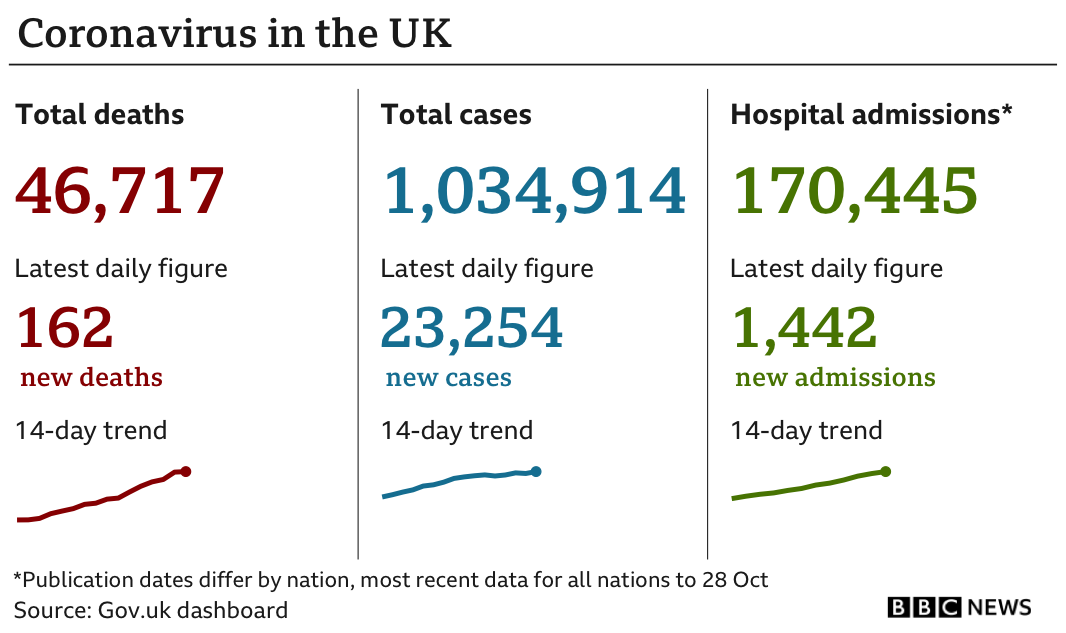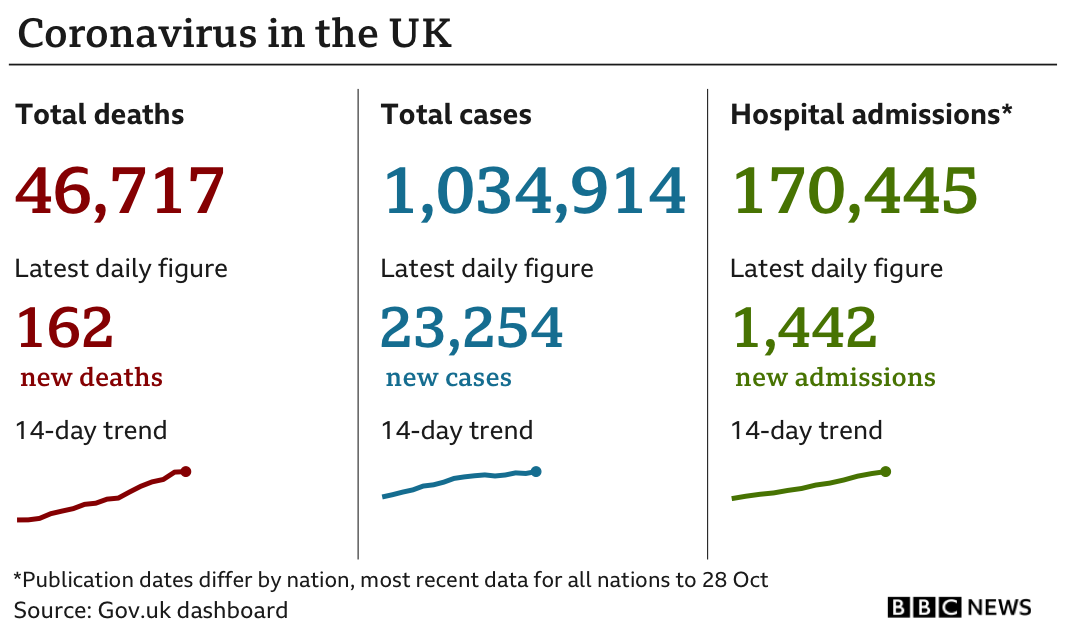 On Sunday, the UK recorded 23,254 new confirmed cases of coronavirus and 162 deaths within 28 days of a positive test.
Mr Gove said ministers were moved to introduce more stringent measures in order to prevent the NHS from being overwhelmed.
If action was not taken now "we would face a situation by 4 December […] that the NHS would be full", he said, adding: "Every available space and every available corridor taken."
He added: "I don't believe it would be that case, but I do believe that we want to keep schools open and I believe that the measures that we are putting in place will enable us to do so."
Full details of the regulations are expected to be published ahead of a vote by MPs on Wednesday, but ministers have clarified some aspects of the new rules.
She said children and adults who are dependent on round-the-clock care because of disabilities would also be an exception.
SOURCE: BBC NEWS