The Indian and Chinese foreign ministers have exchanged protests over clashes in a disputed Himalayan border area which led to the deaths of at least 20 Indian troops.
India's Subrahmanyam Jaishankar said China tried to erect a structure inside Indian territory, while China's Wang Yi said Indian troops attacked first.
But in a phone call both men promised not to escalate the situation.
It was the first deadly clash at the disputed border for at least 45 years.
Soldiers reportedly brawled with sticks and bats but no shots were fired.
China has not released casualty figures. Unconfirmed reports in Indian media say at least 40 Chinese soldiers died. Some Indian soldiers are still believed to be missing.
Earlier Indian Prime Minister Narendra Modi said the Indian deaths "will not be in vain" and that India would be "proud that our soldiers died fighting the Chinese" in the clash in the Ladakh region on Monday.
Addressing the confrontation for the first time in a televised address on Wednesday, he said: "India wants peace but when provoked, India is capable of giving a fitting reply, be it any kind of situation."
What did the two diplomats say?
An Indian government statement following the phone conversation said that Chinese troops had tried to put up a structure on the Indian side of the de facto border, the Line of Actual Control (LAC), in the strategically important Galwan Valley.
It described this as "premeditated and planned action that was directly responsible for the resulting violence and casualties" and urged China to "take corrective steps".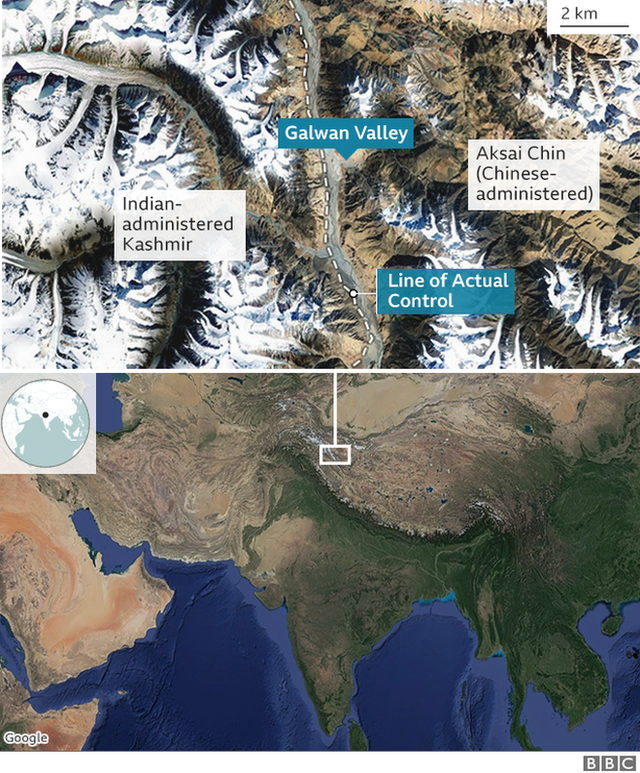 Meanwhile a Chinese statement quoted Mr Wang as saying: "China again expresses strong protest to India and demands the Indian side launches a thorough investigation… and stop all provocative actions to ensure the same things do not happen again."
"Both sides should resolve the dispute through dialogue, and keep the border safe and tranquil," he added.
What happened?
The fighting occurred in the precipitous, rocky terrain of the Galwan Valley.
Indian media say soldiers engaged in direct hand-to-hand combat, with some "beaten to death". During the fight, one newspaper reported, others fell or were pushed into a river.
The Indian army initially said a colonel and two soldiers had died. It later said that "17 Indian troops who were critically injured in the line of duty" had died from their injuries, taking the "total that were killed in action to 20".
"I understand that some [further] Indian soldiers went missing. The Indian side is still working to release them from Chinese custody," defence analyst Ajai Shukla told the BBC.
Indian forces appear to have been massively outnumbered by Chinese troops.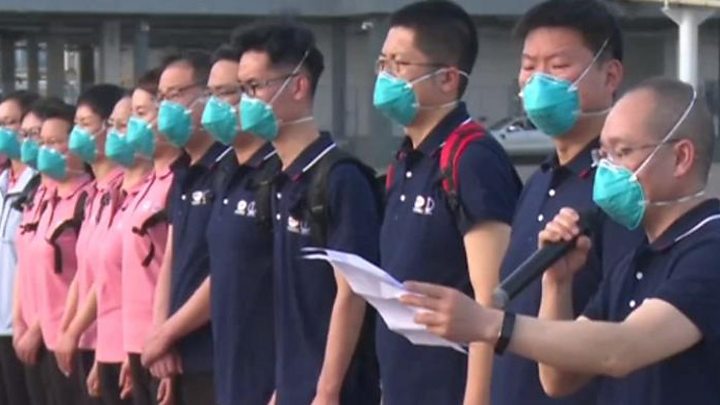 "They hit our boys on the head with metal batons wrapped in barbed wire. Our boys fought with bare hands," the officer, who did not want to be named, said.
His account, which could not be verified, tallies with other reports in the Indian media detailing the savagery of the combat.
The clash has provoked protests in India, with people burning Chinese flags.
China has not confirmed how many of its personnel died or were injured. The BBC's Robin Brant in Beijing says that China has never given contemporaneous confirmation on military deaths outside of peacekeeping duties.
Our correspondent adds that on this occasion China's propagandists may not want to fan nationalist flames at home by making much of any loss, or admit to a significant and demoralising loss.
This is not the first time the two nuclear-armed neighbours have fought without conventional firearms on the border. India and China have a history of face-offs and overlapping territorial claims along the more than 3,440km (2,100 mile), poorly drawn LAC separating the two sides.
SOURCE: BBC NEWS