Dubai News
UAE is home to the world's tallest tower, the Burj Khalifa, one of the world's largest malls, The Dubai Mall, and some of the most beautiful buildings in the world such as the Museum of the Future.
However, the nation's feats are not just stopping there. That being said, here is a closer look at all the upcoming projects set to open in 2023;
1. The Link by One&Only One Zabeel
Set to open in 2023, The Link by One & Only One Za'abeel will become part of Dubai's cityscape.
Designed by Japanese architectural firm, Nikken Sekkei, the building will feature two glass towers. Its highlighted feature is that the towers will be connected to one another by the
world's longest cantilevered building
, called he called The Link'.
The huge mixed-use scheme, called One Za'abeel, will feature at its heart a dramatic protruding steel skybridge called The Linx. Suspended 100m above the ground, the panoramic space will house restaurants and bars, an observation deck, a gym, a spa, a pool, a banquet hall and a rooftop terrace.
Suspended 100 metres above ground, the glass walls on The Link, will feature a "panoramic space" that will house restaurants and bars, an observation deck, a gym, a spa, a pool, a banquet hall and a rooftop terrace.
The Link is also said to feature a glass-walled infinity pool, and will have 229 hotel rooms and suites as well as over 90 residential units.
The upcoming building is safely positioned over Dubai's Happiness Bridge and "undergoing its final technical preparations for its epic ascent."
2. Ciel Tower
Ciel Hotel, is set to be the world's tallest hotel in 2023. The building, which has a remarkable height of 365 metres, will add to Dubai Marina's skyline, and is managed by Dubai-based property developer The First Group.
Designed by London-based architect NORR, the 82-floor hotel will feature a glass observation deck on the 82nd floor, offering visitors a 360-degree views across Dubai Marina, the Palm Jumeirah and the Arabian Gulf. The hotel will also feature a 'sunset lounge' on the 74th floor.
On completion, Ciel will surpass the Gevora Hotel — which is currently the tallest hotel in Dubai.
3. Atlantis The Royal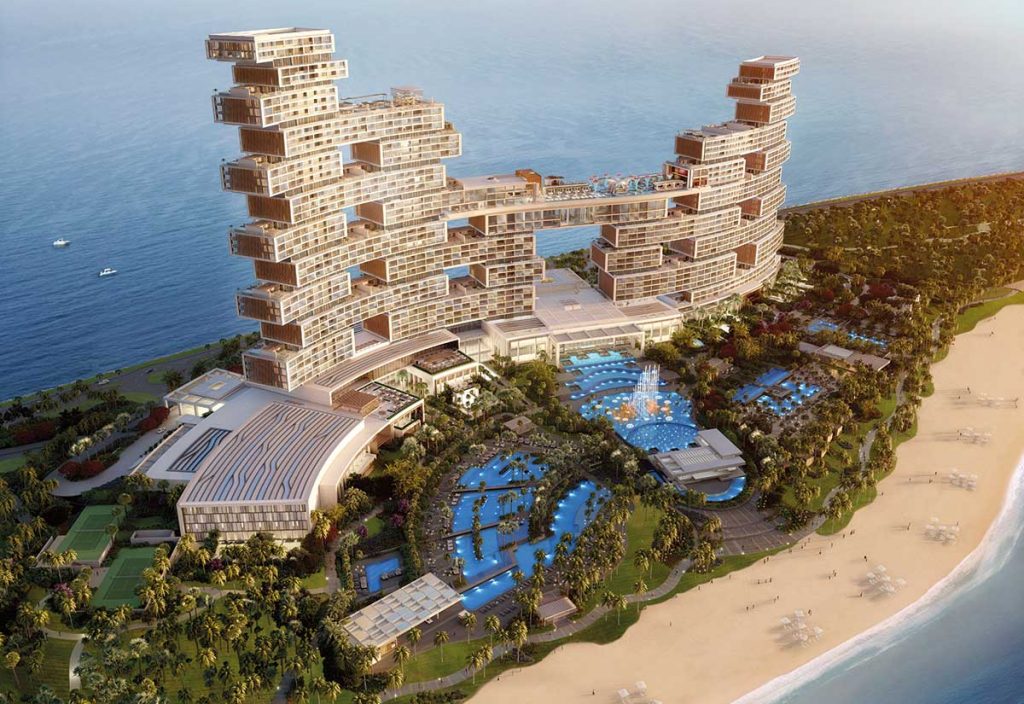 Atlantis The Royal, a luxury resort is set to open in January 2023.
The 43-storey cantilevered resort, will feature 231 luxury apartments, 693 hotel rooms and 102 suites, all of which offer views of the Arabian Sea and Palm Island.
French interior design expert Sybille de Margerie has reportedly commissioned a host of talented modern artists to personalise each residence.
The resort will also house 90 swimming pools, including a rooftop infinity pool on the 22nd floor, suspended 90 meters above ground level.
Atlantis The Royal will also feature restaurants run by global celebrity chefs, some of which include Gastón Acurio, Costas Spiliadis, Ariana Bundy, Heston Blumenthal and José Andrés.
4. SeaWorld Abu Dhabi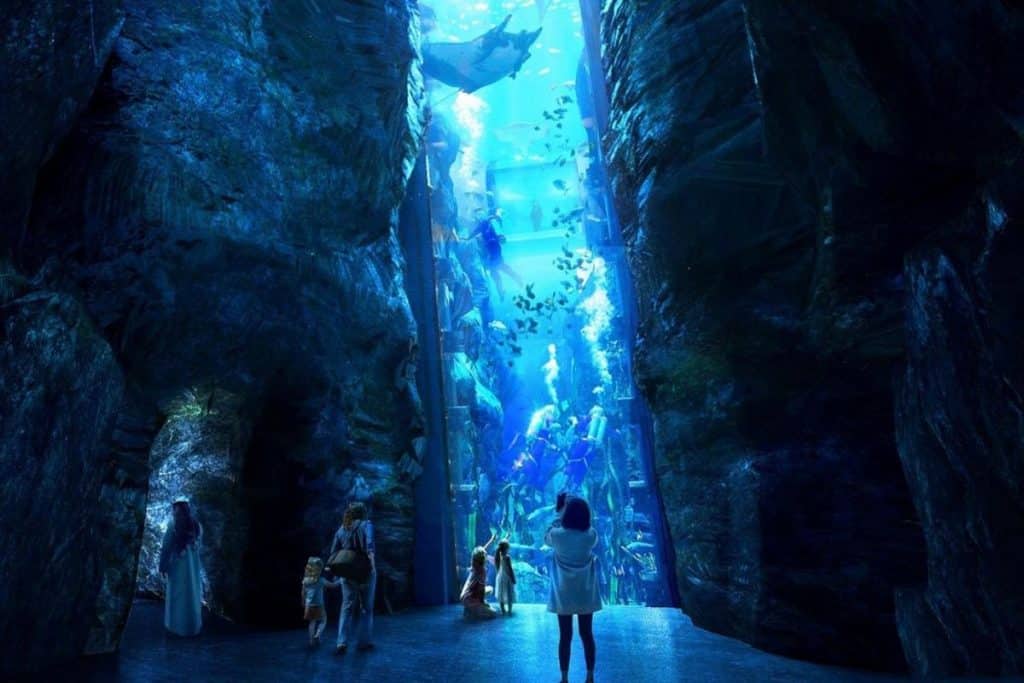 SeaWorld Abu Dhabi, a marine-based theme park will be home to the world's largest aquarium, set to open to visitors in 2023.
With 90 percent of construction completed on the tourist spot, SeaWorld Abu Dhabi will also be a research and rescue center.
The 183,000-square-metre venue, will be home to over 150 marine species, and will be led by marine scientists, veterinarians, animal care professionals, rescue experts and educators.
Built on five indoor levels, the venue will also have a rescue team, who will be available to support authorities 24/7.
Visitors at SeaWorld Abu Dhabi can take advantage of immersive and interactive exhibits.
"The central 'One Ocean' realm of SeaWorld Abu Dhabi links six distinct marine environments throughout the park, all of which tell a unified story based on the interconnectivity of all life on earth and in our ocean," SeaWorld Abu Dhabi said in a statement.
"Within the central hub, guests will encounter fascinating ocean stories presented in an expansive 360-degree fully immersive media experience, transporting them from one fascinating place to another, while they encounter much of the ocean's diverse marine-life, learning how the One Ocean current impacts us all," the statement said.
SeaWorld Abu Dhabi is anticipated to contain more than 58 million litres of water.
5. Kempinski Floating Palace
A five-star luxury hotel, the Kempinski Floating Palace, is exactly what it sounds. The floating building, which is expected to open in 2023, will feature a glass pyramid-topped main building, which is structured in four parts.
Aside from accommodating over 150 guestrooms and suites, the hotel will also be home to 12 luxury villas, connected by "pontoons". The two, three and four houseboats are for sale, but can also be rented out by hotel guests.
"Cruising at a maximum speed of 6 nautical miles, the villas are equipped with solar panels and are designed to be environmentally friendly," Kempinski said in a statement.
Guests are brought to the 156-room and suite hotel or their villas via speed boats, or can even opt to arrive in their own boats.
The hotel will also feature a "connected floating helipad next to an impressive yacht parking deck for up to 16 yachts," the statement said.
Guests at the Kempinski Floating Palace can access gourmet restaurants, bars, spa, pools to boutiques, banquet areas and the possibility for even larger yachts to sail in and out at the centre of the hotel.
6. Jumeirah Marsa Al Arab
Set to open in 2023, is the superyacht-shaped hotel Jumeirah Marsa Al Arab.
The new resort, which will feature "386 rooms and suites, four penthouses, as well as 83 luxury hotel apartment suites set amid private landscaped gardens," Jumeirah said in a statement.
The resort will complete Jumeirah's "oceanic trilogy," which already has the wave-shaped Jumeirah Beach Hotel and the sailboat-inspired Burj Al Arab.
All rooms at the resort will offer guests a panoramic view of the Arabian Sea.
7. Jubail Island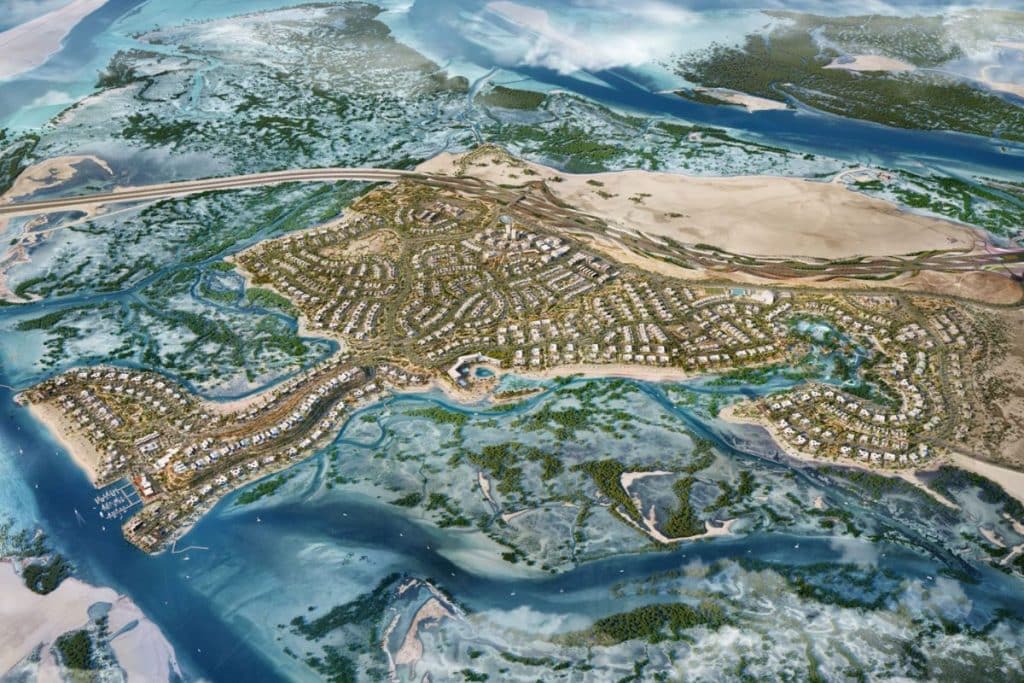 Abu Dhabi's Jubail Islands sits between the emirates Saadiyat Island and Yas Island.
The upcoming project, spans 4,500 hectares and is already home to a massive mangrove park.
Managed by the Jubail Island Investment Company (JIIC), the development will accommodate over 5,000 residents, and is also said to build restaurants, a beach club, sports amenities, nurseries, schools, clinics, community centres, and business centres.
"The development will also feature spacious and well-appointed outdoor areas, including parks, walking tracks, kayaking stations and cycling routes for nature lovers and water sports enthusiasts," Jubail Islands said in a statement.
The first 300 villas will be built by the Arabian Construction Company, and will be ready by the fourth quarter of 2023.