By Ghulam Haider
Dubai (October 11, 2022): Dubai on Monday launched the GITEX Global 2022, showcasing humanoid robots, lots of AI and all the cutting-edge tech that can be put up to attract hundreds of thousands of tech savvy enthusiasts from across the globe in its most powerful tech version ever hosted by the emirates.
Sheikh Maktoum bin Mohammed bin Rashid Al Maktoum, Deputy Ruler of Dubai, Deputy Prime Minister and Minister of Finance opened the 42nd edition of the world's largest technology show at the Dubai World Trade Centre (DWTC).
Sheikh Maktoum bin Mohammed said: "The record global participation in the 42nd edition of the event reflects Dubai's profile as a hub for innovation, knowledge sharing, enterprise and networking in the international technology industry, a position it has built through focused investments over the last few decades."
Gitex is continuing to emerge as the largest and the most impressive ICT event of its kind in the Middle East and is now ranked as one of the top three ICT exhibitions in the world.
The five-day event at the Dubai World Trade Center is being trumpeted to surpass all its previous editions in terms of size and capacity with the participation of 5,000 plus tech companies and startups across continents and nationalities showcasing humanoid robots, lots of AI and all the cutting-edge tech that can be put up under one roof.
Middle East region is one of the fastest-growing ICT markets in the world. High growth prevails across all segments, and the market is driven by economic diversification and various e-government initiatives. The region has robust economies, which despite downturns around the world, continue to enjoy high growth rates.
Driverless taxis and flying cars
Autonomous vehicles including Dubai's first driverless taxis— set to be on Dubai's roads next year — put on display by the Roads and Transport Authority and path-breaking flying cars that could be turned into reality in the near future took the centre stage on the opening day of the global event.
Cruise Origin taxis will be introduced as a service next year, making Dubai among the first of cities, with the exception of some cities in the US, to include self-driving cars in their transportation offerings.
Sheikh Hamdan bin Mohammed, the crown prince of Dubai, announced on Twitter in 2021 that they were collaborating with Cruise on the first international service of taxi robots outside the United States.
"Dubai will be the first outside America to operate self-driving Cruise vehicles, in fulfilment of His Highness Sheikh Mohammed bin Rashid's vision that Dubai is always in the first place and the best city to live and work," Sheikh Hamdan said in April 2021.
Set to deliver in the year 2024, a company named XPeng introduced two-seater Electric Vertical Take-off and Landing (eVTOL) aircraft X2 at Gitex Global 2022. The eVTOL car be driven at altitudes of up to 1000 meters, and on a full charge of its battery, it can be blown for up to 35 minutes at a time at a speed of 130 kmph.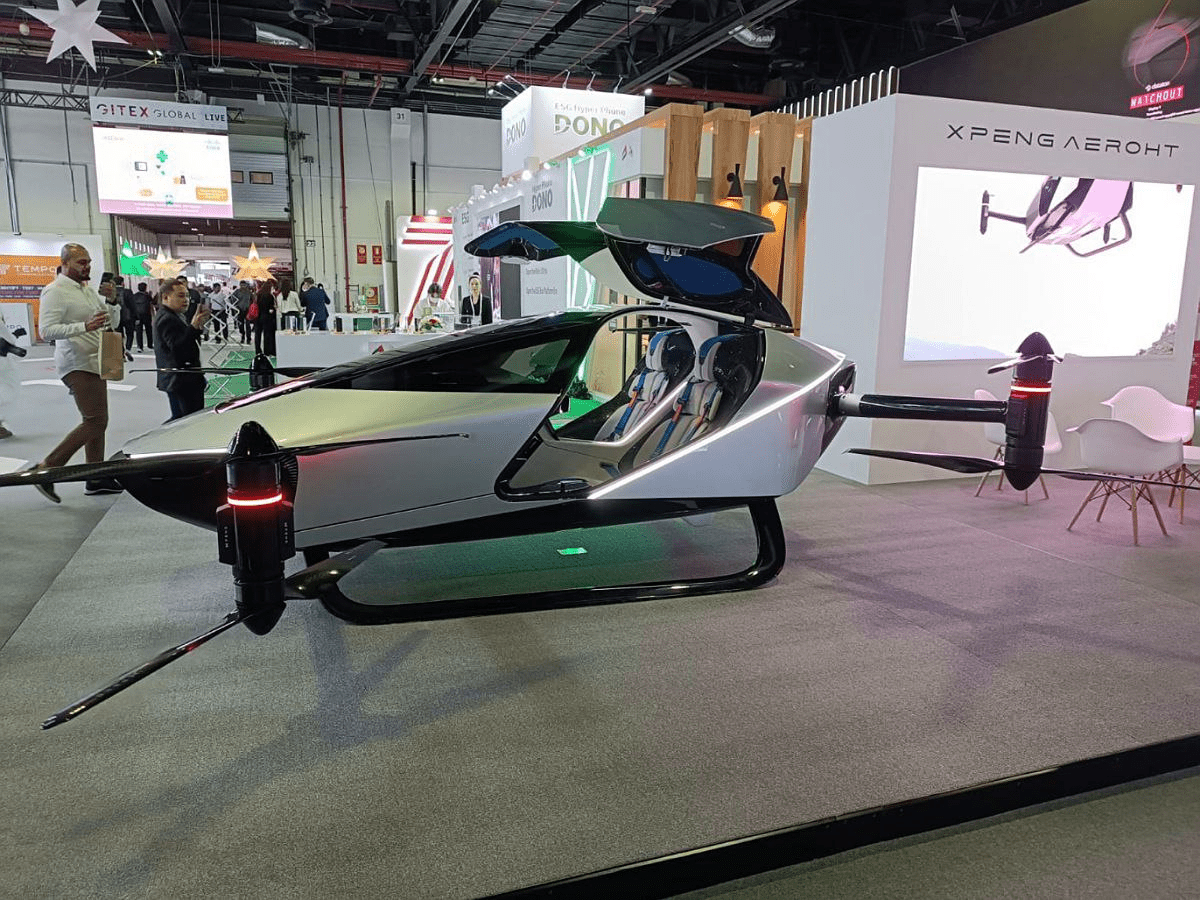 X2 flying car unveiled on Monday in Dubai's GITEX Global 2022
Metaverses and start-ups
Besides the Global DevSlam which the largest forum for developers and programmers in the Middle East, GITEX Global 2022 opening day also witnessed the X-Verse event, the largest immersive journey in the world in the field of metaverses.
The 42nd edition of GITEX 3.0 is the most influential edition in the event's history as it covers seven diverse technology topics across the areas of metaverses, the future of the decentralized Internet and the sustainable global digital economy.
Being showcased as to how next-generation tech is helping answer some of society's most pressing questions, about 35 Unicorns are also looking to explore new opportunities and expand in one of the world's fastest-growing markets in Dubai.
53 companies from Pakistan
Pakistan's 53 companies are participating in the global event, which are working in the fields of AI, Block chain, Metaverse, Agritech, Edtech, etc. Pakistani firms have forged significant businesses at the expo in the past.
Inaugurating Pakistan pavilion, Minister for Information Technology and telecommunications Syed Amin ul Haq said that Pakistan is becoming a fertile land for producing IT & cloud computing, technology experts and start-ups.
Syed Amin ul Haq said: "Such mega events provide rare opportunities to forge collaborations for strategic & digital projects, explore businesses and investment by showcasing innovative products, technical skills and sustainable ideas."
Appreciating the event where 90 countries are participating, Syed Amin ul Haq said: "GITEX provides an ideal platform to Pakistani exhibitors to interact and network with key industry players, explore and learn important developments taking place around the world."
Pakistan's ICT's export remittances including telecommunication computer and information services recorded growth of 47.6% in FY 2020-21 in comparison with FY 2019-20. In 2021, Pakistani startups raised a record investment which was 450% higher than investment raised in 2020.