The Pakistani opposition leader Shah Mahmood Qureshi was detained on Saturday, his Pakistan Tehreek-e-Insaf (PTI) party said, just hours after Qureshi said it would challenge any delay to the country's election in the courts.
Party spokesperson Zulfi Bukhari said that the specific reason for the detention of Qureshi, twice Pakistan's foreign minister, was not immediately clear.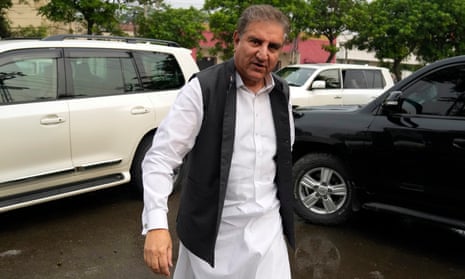 Bukhari condemned the arrest on the social media platform X, saying Qureshi was "arrested for addressing a press conference and reaffirming PTI stance against all tyranny and pre-poll rigging that is going on currently in Pakistan".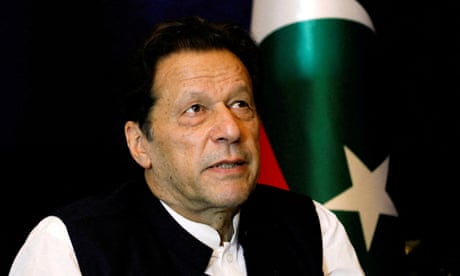 The PTI party chair and former prime minister of Pakistan, Imran Khan, is currently serving three years in jail after being convicted on graft charges and is barred from contesting any election for five years. He denies any wrongdoing. Khan won the last election in 2018 and became prime minister until he was ousted in a no-confidence vote in 2022.
The election is meant to be held within 90 days of parliament being dissolved – which will mean by November – but uncertainty looms over the date as the nation grapples with constitutional, political and economic crises.
Vice Chairman Shah Mehmood Qureshi was illegally arrested after this press conference today.

Rule of law, freedom of expression has been completely ended in Pakistan .#ReleaseSMQ #PrisonerNo804 pic.twitter.com/kpLsuxnIwJ

— PTI (@PTIofficial) August 19, 2023
The outgoing government approved a census in its final days, meaning new electoral boundaries must be drawn up by the election commission.
The exercise of drawing fresh boundaries for hundreds of federal and provincial constituencies in a country of 241 million people may take six months or more, according to a former commission official.
Thank you so much Shah Mehmood Qureshi for standing with great and brave leader of Pakistan Imran Khan.
#رہا_کرو_کپتان_ہمارا #قیدی_نمبر_804 pic.twitter.com/tPuEtEJkXb

— Hina Zainab (@hina98_hina) August 19, 2023
The election commission said on Thursday that new constituencies would be finalised by 14 December, state television reported. After that, the commission will confirm an election date.
Electoral experts have suggested the process could push the nationwide vote back several months, possibly until February.
"It will be unconstitutional if the 90 days deadline is breached," Qureshi, who has led the PTI party following Khan's arrest, told a press conference. He said the party planned to contest any delay at the supreme court.
Shah Mehmood Qureshi's sudden Arrest & Barrister Sher Afzal Marwat's disappearance into hiding after fearing leaks from PTI Core Committee both look very confusing developments & not easy to understand!
It's getting clear that Caretake Govt of PM Kakar has no executive authority…

— Moeed Pirzada (@MoeedNj) August 19, 2023
Political analysts say that if the current caretaker set-up stretches beyond its constitutional tenure, a prolonged period without an elected government would allow the military, which ruled the country directly for more than three decades of its 76-year existence, to consolidate control.
Anwaar-ul-Haq Kakar, a little-known politician who is believed to be close to the military, was sworn in as prime minister on Monday.
Caretakers are usually limited to overseeing elections, but Kakar's setup is the most empowered in Pakistan's history thanks to legislation that allows him to make policy decisions on economic matters.
Shah Mehmood Qureshi arrested after his press conference today. How long will this continue!? The people of Pakistan need to rise. https://t.co/CmhR01F7oa

— Mariam's Madness (@MaddyWithKhan) August 19, 2023
The move is ostensibly aimed at keeping on track a nine-month $3bn International Monetary Fund bailout secured in June. At least one of three programme reviews falls during the caretaker period, more if elections are delayed.