By Ghulam Haider
Dubai rang in the new year by suspending a 30 per cent tax on alcohol sales in the Sheikhdom as the Emirate made its required liquor licences free to obtain, ending a long-standing source of revenue to apparently consolidate its position as the Gulf's tourism and business hotspot.
The sudden New Year's Day announcement, made by Dubai's two state-linked alcohol retailers, came apparently from a government decree from its ruling Al Maktoum family.
Alcohol sales have long served as a major barometer of the economy of Dubai, a top travel destination in the UAE, home to the long-haul carrier Emirates. During the recent World Cup in nearby Qatar, Dubai's many bars drew commuting football fans.
Dubai will also stop charging for personal alcohol licences – something residents who want to drink at home must have.
Dubai has been relaxing laws for some time, allowing the sale of alcohol in daylight during Ramadan and approving home delivery during the pandemic.
This latest move is thought to be an attempt to make the city more attractive to foreigners, in the face of competition from neighbours.
The two companies which distribute alcohol in Dubai, Maritime and Mercantile International (MMI), and African & Eastern, said they would reflect the cut in tax for consumers.
"Since we began our operations in Dubai over 100 years ago, the emirate's approach has remained dynamic, sensitive and inclusive for all," MMI spokesman Tyrone Reid told.
"These recently updated regulations are instrumental to continue ensuring the safe and responsible purchase and consumption of alcoholic beverages in Dubai and the UAE."
Dubai, the region's commercial and tourist centre where expatriates outnumber nationals by nine to one, has been liberalising regulations in recent years to make itself more attractive for foreign workers.
The city faces tough competition from richer neighbours that are seeking to wean themselves off hydrocarbon dependency by developing service sectors — such as hospitality and finance — that have long been the mainstay of oil-poor Dubai's economy.
The liberalising Gulf region
Saudi Arabia, which has been enticing many expatriates with bumper salaries, is developing new industries and opening up to entertainment.
Once closed to tourists except pilgrims, the kingdom is promoting its historical sites and considering legalising the sale of alcohol.
Qatar, having showcased itself during the Fifa World Cup, is also developing hospitality.
"The cut should further support the tourism and hospitality sectors, after the strong recovery from the pandemic," said Monica Malik, chief economist at Abu Dhabi Commercial Bank.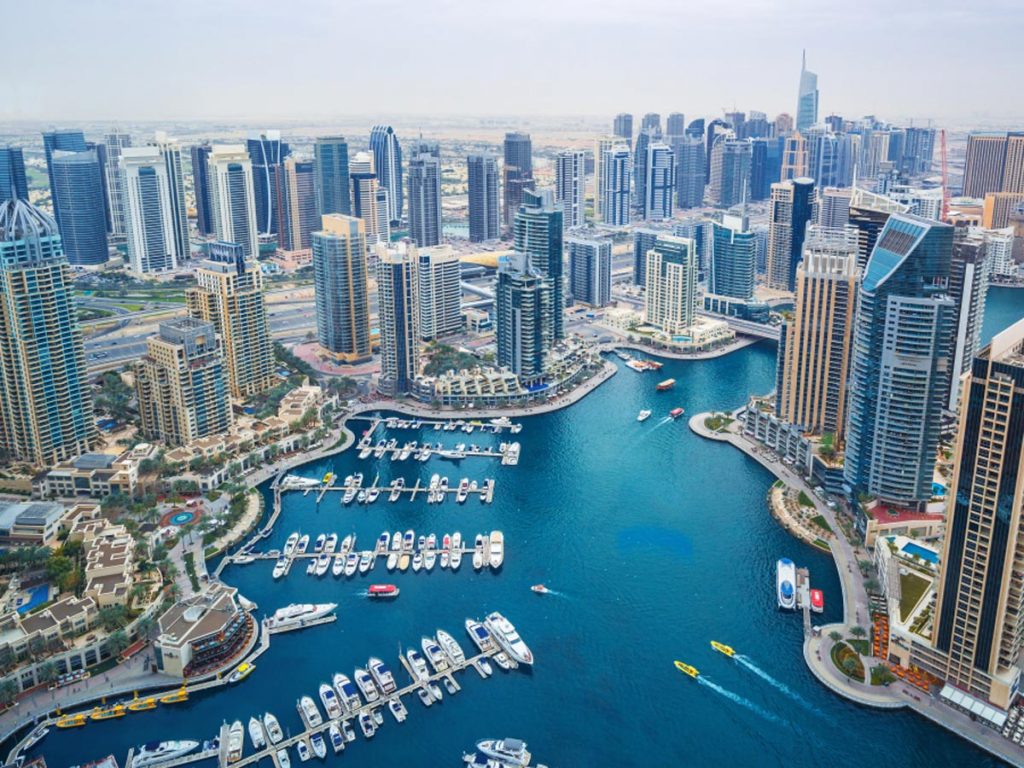 Dubai Marina
"The move should also be welcomed by many residents, who are predominantly expatriates." MMI, one of two Dubai firms that distribute alcohol, said it would scrap the fee for the personal licence required to purchase alcohol and reflect the tax removal across its products.
At one store in Dubai, staff were informed of the decision on the afternoon of New Year's Eve. They worked overnight through the city's multiple fireworks celebrations to relabel the stock.
"I've never seen prices as low as this," said one experienced staff member.
Dubai, the Gulf's party capital, has for decades managed to attract more tourists and wealthy expatriate workers than its regional rivals thanks to the homegrown Muslim population's tolerance of the city's more liberal lifestyle.
But tourists regularly complain about the prohibitive cost of licensed restaurants, which tend to mark up alcohol prices four to five times.
"It will be interesting to see whether this tax break is fully passed on to the consumer," said one industry executive.
The city has swung back strongly from the pandemic, luring new residents by curbing coronavirus while also keeping the economy relatively open.
The war in Ukraine has also seen Dubai emerge as a financial haven for Russians. The easing of Covid-19 restrictions in China is another potential new stream of property buyers as house valuations and rents skyrocket.
As travel returns to normal, the state-owned carrier and airports are reporting strong demand. The World Cup in Qatar supercharged the hotel sector with thousands of fans opting to stay in Dubai and fly to Doha for individual matches.
Observers said the removal of the alcohol tax could be offset by the planned introduction of a 9 per cent corporate tax in June.
The 30 per cent tax on alcohol sales is one of many "stealth taxes" generating revenue in the absence of income tax.
Dubai has already benefited from the United Arab Emirates' introduction of a 5 per cent sales tax in 2018.
"The impact on government revenue is expected to be limited, especially with the recovery in the non-oil sectors and from earlier fiscal reforms," said Malik.
One-year trial move
The initiative, which took effect on Sunday last, will last for a year and has been described as a trial period by industry executives informed of the decision. The move is being dubbed as a one-year trial, citing "industry executives informed of the decision".
Expatriates outnumber nationals by nine to one in Dubai, known as the Gulf's "party capital", and residents commonly drive to Umm al-Quwain and other emirates to buy alcohol in bulk.
Dubai has historically managed to attract more tourists and wealthy foreign workers than its neighbours, in part because of its tolerance of a more liberal lifestyle.
But now it faces increasing competition from rivals developing their hospitality and finance sectors.
Non-Muslim residents in Dubai must be at least 21 years old to drink, transport or store alcohol at home and have an alcohol licence – a plastic card issued by police.
Bucks for bars, pubs, hotels
It means bars, pubs, clubs, restaurants and hotels will make savings when they buy their stock and Dubai's government reportedly expects that to be passed on to customers.
But the savings consumers will see may be minimal – and the biggest price impact can be expected in shops such as MMI and African + Eastern.
The change in rules has been confirmed by a number of operators and industry leaders, who say they have been buying their drinks at the reduced price from January 1.
The plan is reportedly for the city to be a more affordable place to visit in 2023, with the price of drinks among some of the highest in the world right now.
It should also mean that it's no longer cheaper for people to enjoy themselves in the other UAE Emirates.
That said, it is not yet mandatory for venues to reduce their prices and pass on the savings, so it remains to be seen just how many, and which outlets will reduce their prices in the new year.
Drinkers are supposed to carry plastic cards issued by the Dubai police that permit them to purchase, transport and consume beer, wine and liquor.
Otherwise, they can face fines and arrest – even though the sheikhdom's vast network of bars, nightclubs and lounges almost never ask to see the permit.
Still, relatively liberal Dubai is an outlier among others in the region.
Sharjah, an emirate that borders Dubai to the north, outlaws alcohol, as do the nearby nations of Iran, Kuwait and Saudi Arabia.
Abu Dhabi, the capital of the oil-rich UAE, ended its alcohol licence system in September 2020.
Looking for the best places to go in Dubai?
Dubai's best nights out
Winners of the Time Out Dubai Nightlife Awards 2022 revealed
Dubai's best pubs
The top 10 you have to try
Dubai's best clubs
The clubbing scene has reached new heights
Be the first to get all the latest news, reviews and deals into your inbox by signing up to our free newsletter, 
click here
to sign up.