By Ghulam Haider
The Dubai Metro currently travels across the city at an approximate speed of 95 kilometres per hour, but a new railway project by Etihad Rail, will travel at speeds of up to 200 kilometres per hour, potentially slashing travel between emirates by half.
The railway mega-project is set to link the UAE up with a state-of-the-art public transportation system, reaching Ghweifat on the border of Saudi Arabia in the West to the border of Oman in the East.
The rail, on completion, will be utilised initially to transport heavy goods, before carrying over millions of passengers by 2030 – thus, reducing travel time between cities.
The proposed national railway network will span 1,200 kilometres, and extend across the UAE from the border of Saudi Arabia to the border of Oman.
Here is all you need to know about the UAE's much-awaited railway:
What is Etihad Rail?
The entity was first established in June 2009, under Federal Law No. 2, with the mandate to manage the development, construction and operation of the UAE's national freight and passenger railway network.
Stage One of the project became operational in 2016, and has been transporting up to "22,000 tonnes of granulated sulphur each day from Habshan and Shah to an export point in Ruwais on behalf of ADNOC," according to 
the company website
.
Stage One of the national railway network consists of two tracks, which extends up to 264 kilometres, with each train pulling up to 110 wagons.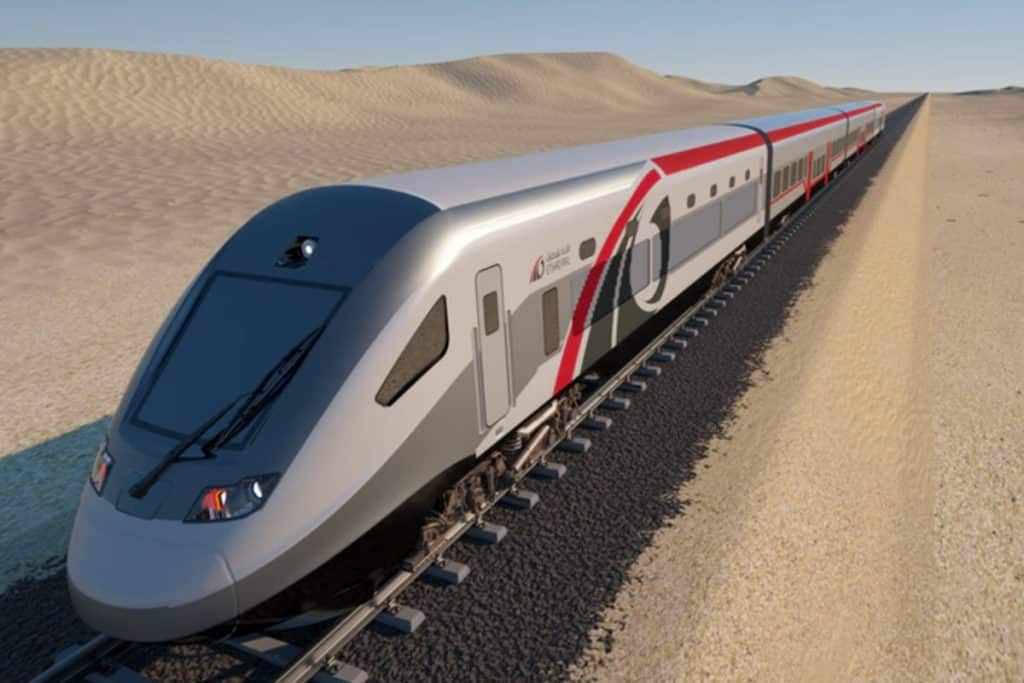 Once completed, Etihad Rail will connect all the seven emirates of UAE, to the five neighbouring countries.
Stage Two, included the linking of UAE and Saudi Arabia from the Fujairah Port to Ghuwaifat, through Mussafah, Khalifa and Jebel Ali ports, with over 600 kilometres of additional track.
On October 12, Etihad Rail, completed the tracklaying works of the main line in Sharjah, which extends over 45 kilometres and Ras Al Khaimah, as part of the last package of Stage Two of the project.
"Connecting the Emirate to the main line recorded more than 11.7 million work hours in 25 months," Etihad Rail said in a statement.
The line in Ras Al Khaimah, which extends over 5.7 km and connects the Emirate to the main line, recorded more than 1.3 million hours in 25 months, by around 350 workers and engineers.
Together, the two phases will support over 9,000 jobs, especially for UAE nationals.
In November 2021, Etihad Rail also completed excavation work on nine tunnels over 7 kilometres, some of which involved excavating through the Hajar mountain range on the East Coast.
The Etihad Rail will be extended into Oman, after both countries signed a deal to build a new $3 billion railway for both freight and passengers.
Reducing carbon emissions, lorry trips
In addition, the rail is also expected to reduce carbon emissions by 80 percent, replacing 5,600 trips made by lorries each day.
The national railway network will also reduce greenhouse gases by over 2.2 million tonnes annually, equivalent to taking at least 375,000 vehicles off the road.
Additionally, Etihad Rail's tracks – which is made with no road intersections – will use modern technology that will "not have joints," thus reducing the noise intrusion when trains pass.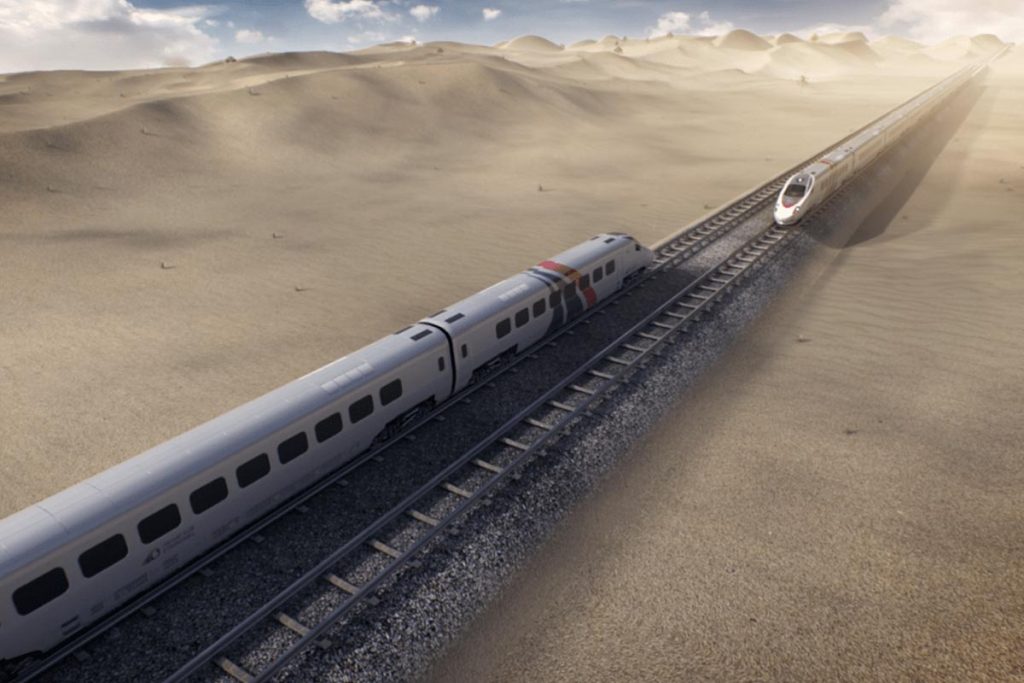 "The ballast used beneath the tracks is formulated specially to absorb energy and noise," Etihad Rail said on their website adding, "sound levels generated by Etihad Rail trains are therefore minor; for example, the decibel (dB) range for freight trains travelling at 100 kilometres per hour, with three locomotives and 110 wagons in normal circumstances should not exceed 88 dB at a distance of 25 meters."
Transportation and locomotives
As of now, there are seven locomotives in operation along the Etihad Rail's tracks, to deliver sulphur.
The trains, which were supplied by US-based Electro-Motive Diesel, are also equipped with European signalling systems, "in order to ensure safety, security, and reliability, in addition to efficiency and sustainability."
Each locomotive can pull 100 wagons, which is equivalent to the capacity of 300 trucks. The wagons are also equipped with extended safety features, those of which include pneumatic brakes that are electronically controlled and derailment protection.
When can I take a ride on the Etihad Rail?
The Etihad Rail is set to extend its operations to commuters by 2030. While authorities have yet to reveal an official date, Etihad Rail said "by 2030, the number of passengers is expected to reach more than 36.5 million annually" in a statement made in December 2021.
The new passenger service will run as fast as 200 kilometres per hour, with stations stretching from Sila near the Saudi border to Fujairah on the East Coast.
Passengers, will be able "to travel from Abu Dhabi to Dubai in 50 minutes, and from Abu Dhabi to Fujairah in 100 minutes," the statement said.
The national railway network is currently working closely with the Federal Transport Authority and various transport authorities across UAE to continue its development of existing networks to improve passenger connections.