Dubai World Central (DWC), also known as the Al Maktoum International Airport, aims to become the world's largest airport upon completion, catering to the needs of the global travel industry.
According to a recent tweet from Dubai South, the airport's expansion is part of a comprehensive plan to establish Dubai South as a hub for integrated transportation, seamlessly connecting air, land, and sea. This ambitious project will not only feature a business-friendly free zone but also provide a diverse range of residential options.
https://twitter.com/Dubai_South/status/1665695223127711747?ref_src=twsrc%5Etfw%7Ctwcamp%5Etweetembed%7Ctwterm%5E1665695223127711747%7Ctwgr%5E9702ede458f7078784597ba7501d22f012d2f5fc%7Ctwcon%5Es1_&ref_url=https%3A%2F%2Fwww.hoteliermiddleeast.com%2Ftravel%2Fal-maktoum-airport-dubai-expansion-will-make-it-worlds-largest-airport
Originally launched in 2010 for cargo operations and subsequently expanded in 2013 to include passenger services, Dubai World Central (DWC) is a monumental development valued at AED 120 billion (US$33 billion).
With a long-term vision, the airport's ultimate objective is to accommodate up to 255 million passengers annually, solidifying its status as the world's largest airport by 2050. The initial phase, slated for completion by 2030, will significantly bolster the airport's capacity, enabling it to handle 130 million passengers per year. Spanning an expansive area of 56 square kilometers, this colossal project is poised to make a substantial contribution to Dubai's thriving economy.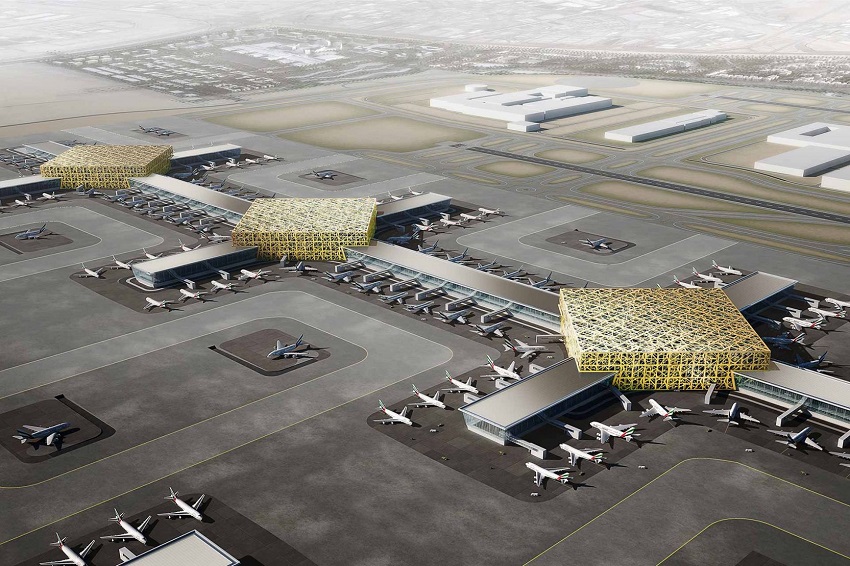 Following a period of disruption caused by the Covid-19 pandemic, discussions are currently underway to resume the construction of the Al Maktoum International Airport. Encouragingly, there has been a resurgence in traffic numbers, with Dubai International recording 66.1 million passengers in 2022.
This year, Dubai anticipates approximately 78 million passengers to utilise the airport, with a return to pre-pandemic levels expected in 2024. As preparations are underway to restart the project, the focus remains on the $2.7 billion substructure contract for Concourse 1 and the West Terminal building. These structures will encompass various essential facilities, including tunnels, baggage handling systems, road networks, and support facilities.